See what's going on at
Jim Beam®.
Though our bourbon is enjoyed all over the world, we certainly love it when you enjoy it with us in Kentucky. Here's what's happening at the home of the world's #1-selling bourbon, where you're always more than welcome.
Events.
Choose from one of the exciting distillery experiences, concerts or other events at our Kentucky home. Whether you know a lot about bourbon or nothing at all, we truly have something for everyone and would be honored for you to join us as we carry on the family legacy.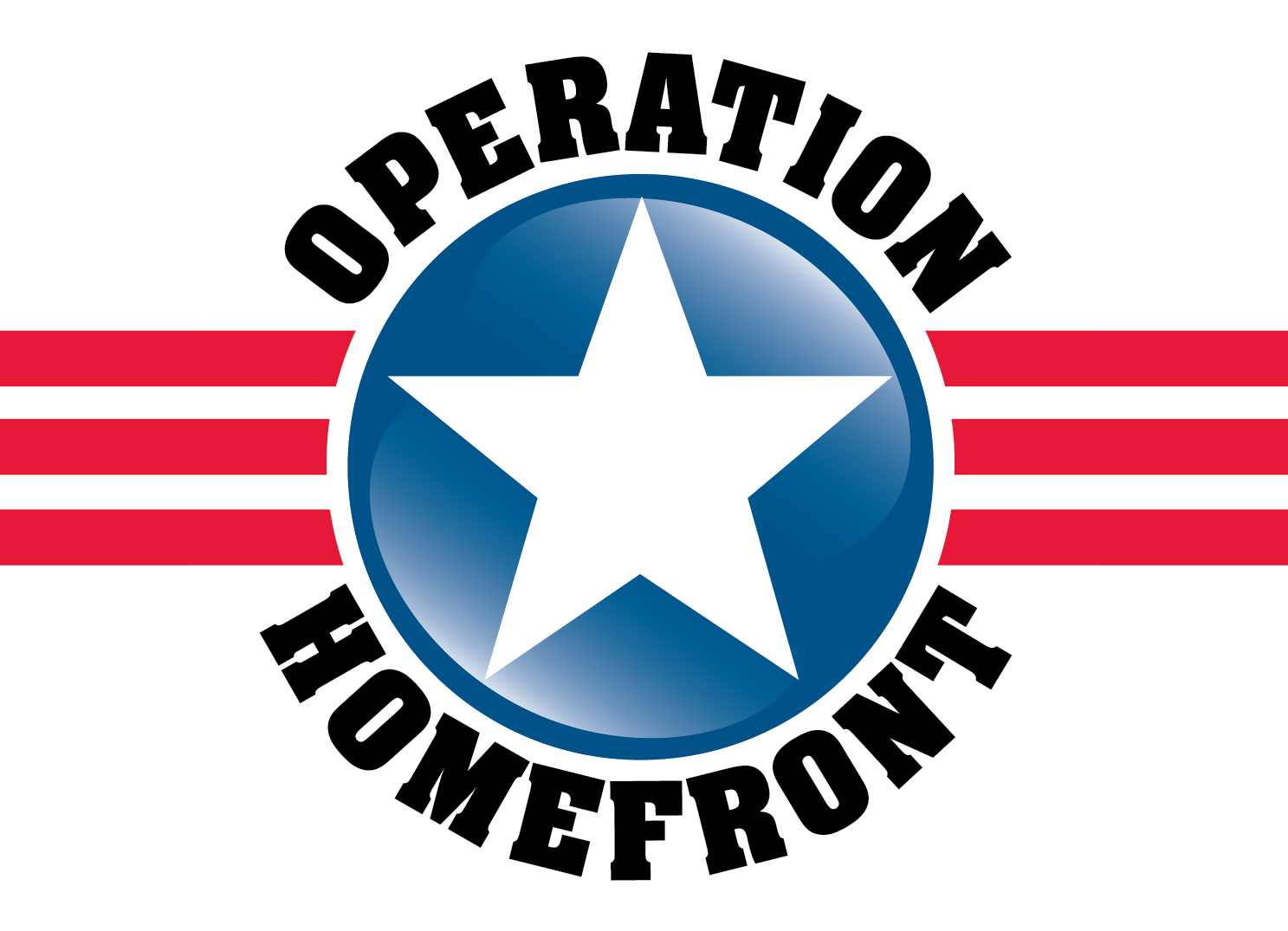 Operation Homefront Dinner
November 11th
Join us on Veteran's Day for an exclusive Operation Homefront Dinner, cocktails and silent auction at the Jim Beam® American Stillhouse.
Wednesday, November 11th
5:30pm-8:00pm EST
Ticket price includes dinner, entertainment and special gift. 100% of the ticket sales go to Operation Homefront.
Operation Homefront benefits military families during difficult financial times by providing food assistance, auto and home repair, vision care, travel and transportation, moving assistance, etc. Our mission is to build Strong, Stable and Secure military families.
Buy tickets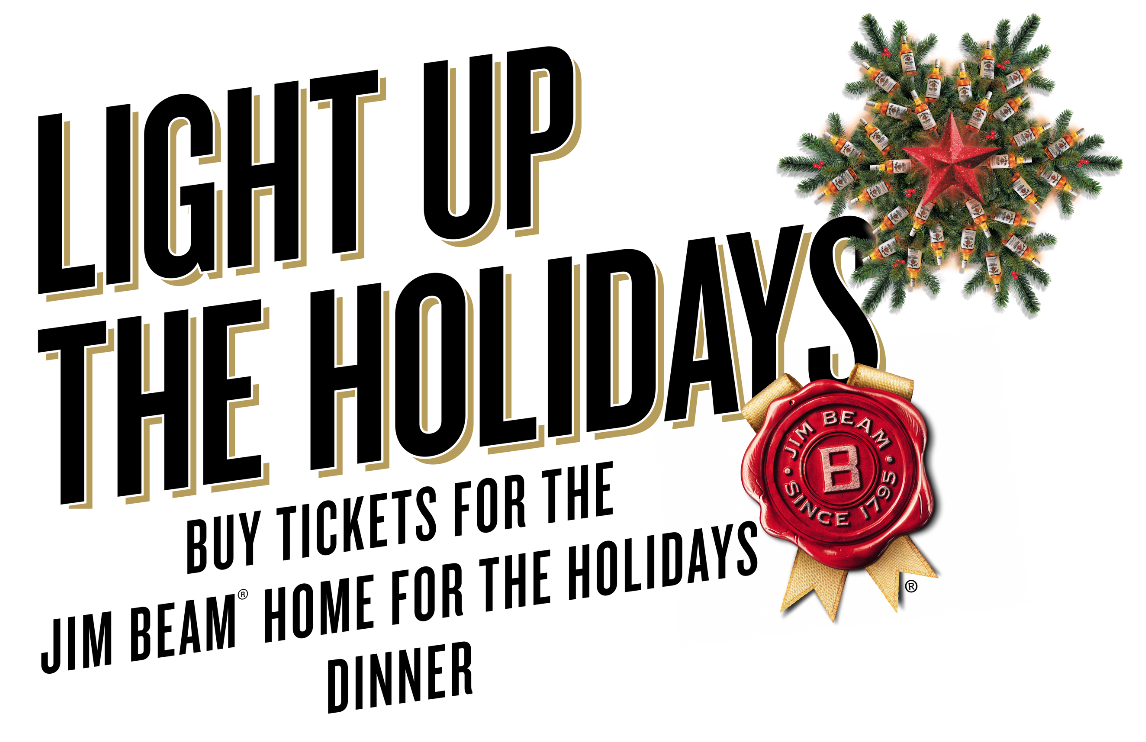 Home for the Holidays
Join us Friday, December 11th for an exclusive Home for the Holidays cocktail & dinner soiree at the Jim Beam® American Stillhouse with Jim Beam Master Distiller Fred Noe & his son Freddie, as they share stories of holidays past while the fireplace crackles & spirits fill the air in more ways than one!
Ticket price includes dinner, mixology creations by Cincinnati mixologist, bar owner and author Molly Wellmann, live music & premium bourbon tasting with the 7th generation Beam Master Distiller, holiday swag bags & much more!
Guests must be 21 years of age or older to participate.
Buy tickets
NOW OPEN: THE JIM BEAM URBAN STILLHOUSE.
In the Fall of 2015 at Fourth Street Live in downtown Louisville.
We welcome all bourbon fans aged 21 and over to a new Jim Beam® visitor attraction. The Jim Beam Urban Stillhouse visitor center delivers the Jim Beam® distillery experience right in the heart of Louisville. It includes a small working distillery, a bottling line, a tasting experience and merchandise for sale.
Address
404 South 4th Street, Louisville, KY 40202
Hours of Operation
Monday - Thursday: Noon to 9 p.m.
Friday - Saturday: 11 a.m. to 10 p.m.
Sunday: Noon to 6 p.m.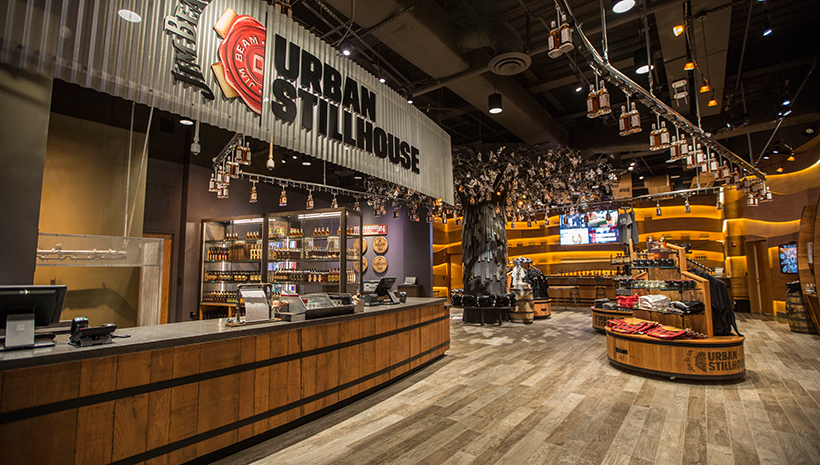 James B. Beam in front of the Jim Beam American Stillhouse.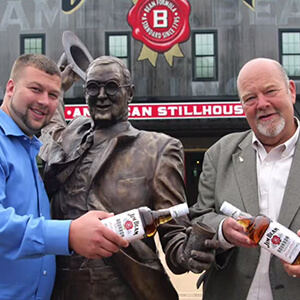 Thursday, September 18th, 2014.
Jim Beam® Bourbon unveiled a statue of Kentucky and distilling legend James B. Beam (1864–1947) in a ceremony commemorating the 150th birthday of the iconic bourbon's namesake, Colonel James Beauregard Beam. Beam, the fourth-generation family distiller, is credited with establishing Jim Beam® as a national brand after Prohibition, renovating and rebuilding his distillery in a mere 120 days after Prohibition was repealed in 1933, razing most of the old buildings and constructing new ones by hand. To this day, Jim Beam's namesake bourbon is still produced on the same site, which is now called the Jim Beam American Stillhouse.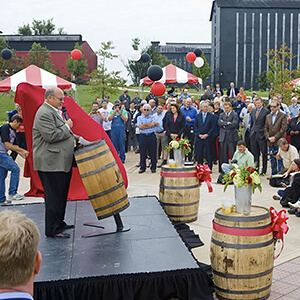 "This statue would make my great-granddad proud," said Fred Noe, Jim Beam's great-grandson and 7th-generation master distiller." Using the Beam family 'mash bill' and centuries of family knowledge passed on to him from his father, David M., he built the family business into the leading bourbon producer in the world. Today, we celebrated his birthday, the legacy he left and toast that which is yet to come." Community leaders joined in the milestone celebration and helped Jim Beam Make History® by declaring September 18, 2014 "Jim Beam Day." The proclamation recognizes Jim Beam's contributions to the commonwealth through his perseverance, ingenuity and dedication to his family and friends. Ten bourbon enthusiasts named "Jim Beam" from across the country joined the celebration as special guests.
Beam's statue was created by Benjamin Bartlett of Lexington. His bronze work features Beam wearing his signature 1920s suit coat, necktie and suspenders. Beam has a joyous look on his face as he beckons with pride toward the Jim Beam American Stillhouse all while raising a glass of bourbon. Bartlett was previously commissioned to create the now-famous bronze statue of Beam's grandson and 6th-generation Beam family distiller Booker Noe which sits atop Beam Hill in Clermont, Kentucky.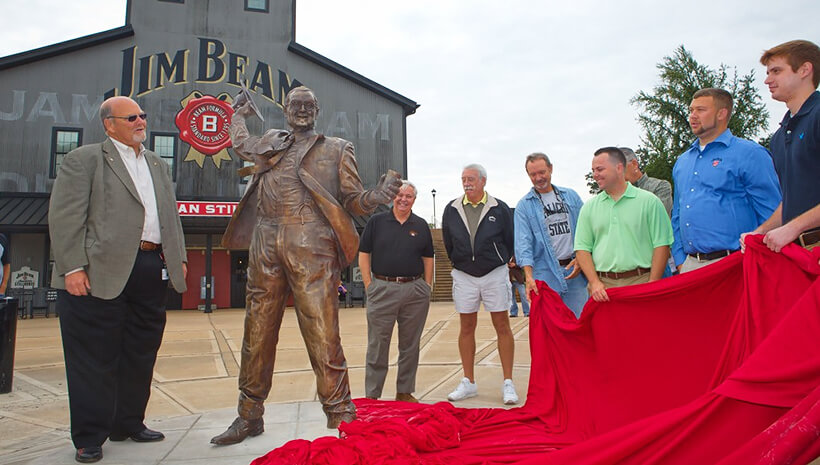 For more information about our Jim Beam Distillery take a look around and browse through our family album.
Family Album